Back To Blog
Opening the garage door is a daily activity that many people carry out without thinking about what goes on behind the garage door opener. However, you might have to pay closer attention if your garage door fails to open as expected. For example, you might hear your garage door opener produce a grinding or humming ground without opening. When this happens, do not panic because you can easily diagnose and repair the fault. Read on to learn how to achieve this goal.
Tools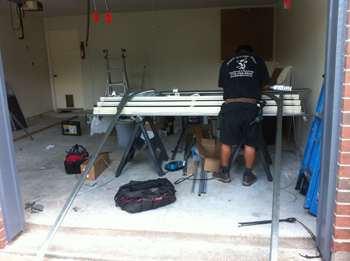 In order to carry out the repairs, you need to have the right tools. These include a circular saw, drift punch, 1/4-in drive socket set, hammer, and hex wrench. In addition to these tools, you will require a set of new gears, washers, and grease.
Diagnosing the Problem
The first step is to unplug the opener and remove the metal cover. This gives you the opportunity to examine the gears that open or close your garage door. If they look worn out around the edges, you have found the problem. If the gears are okay, you may have a serious problem that requires the expertise of a professional.
Removing the Gear Assembly
If you have identified your garage door's gears as the problem, proceed to remove the gear shafts and gears. Start by unscrewing the nuts that hold the tensioning rod in place. The aim is to get the chain that runs on the gears out of the way. After this, remove the helical gear assembly. Remember to disconnect the motor wires connected to the helical gear assembly. Lift the helical gear assembly and place it aside preferably on a workbench.
Replacing Helical and Worm Gears
With the gear assembly set aside, use a drift punch and hammer to tap and get the roll pin connected to the gear shaft out. Remove the old gear shaft, replace it with a new one, and then put the roll pin back in place. Proceed to remove the retaining collar, thrust washers, and then get the motor out of the gear assembly chassis. Gently slide the worm gear off the shaft and replace it with a new one. Reassemble the gear assembly and put it back into the garage door opener. Your garage door should now open and close properly.